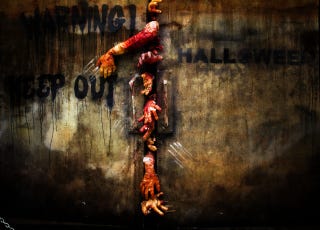 During Halloween, the seasonal outrage du jour usually centers on the sale of ridiculously over-sexualized costumes. But this Halloween, that Sassy Rick Grimes outfit hanging in the local Spirit Store is going to have some competition.
This year haunted house-style attractions across the country made some pretty questionable thematic and aesthetic decisions, offending everyone from the families of murder victims to disabled veterans. Jesus, what ever happened to a plate of peeled grapes and cold spaghetti?
WILLIAMSBURG, VA.- A Busch Gardens theme park took down several severed head props from one of its "Howl-O-Scream" attractions.
Severed heads are usually par-for-the-course at a haunted house. In this case, a photo of the props ran on Virginia Gazette's front page just hours after media outlets reported that the Islamic State posted a new video of British aid worker David Haines' beheading, according to local news station WJLA.
"The theme park in Williamsburg said that in light of recent events, some props may have had the unintended consequence of appearing insensitive and won't be part of this year's Howl-O-Scream attraction. They wouldn't say exactly which props were removed."
WAUNAKEE, WIS.- A local haunted attraction called "Wisconsin Scaryland" came under fire for using using disabled veterans as part of the backstory for one of its haunted house attractions.
From Stripes.com:
The "haunted history" details a horrible accident and massacre in a meat processing plant on the site, and says the building was later turned into an "amputee hospital" for soldiers returning from World War II.

"Since the hospital was underfunded and overrun with patients, many of the procedures were done by resident doctors using rusty knives, dull scalpels and no anesthetics," according to the website. "Soldiers often became agitated and delirious due to improperly sterilized tools and subsequent infections. Some accounts indicate that patients even became violent toward themselves and others."
Naturally, some people got upset. The town's planning commission board eventually shot down a zoning request to finish work on Scaryland. The attraction's owner, who's married to a veteran, said he employes other former service members, and the closure of Scaryland would put those veterans out of a job.
VILLA PARK, IL.- A haunted house produced by Rob Zombie, who I'm sure has never offended anyone ever, drew criticism for having an entire room based on notorious serial killer John Wayne Gacy.
Gacy- who dressed as a clown and performed at children's parties- brutally murdered 33 young men and boys, burying many of them in a crawlspace under his Chicago-area home in the 1970's.
Robert Egan, one of the prosecutors who helped convict Gacy was unsurprisingly not amused, calling the room "tasteless and offensive".
Zombie begged to differ.
"The Gacy room is funny," Zombie told the Chicago Tribune. "Last year what it was was these little dead kids lying around and John Wayne Gacy is sitting in the chair folding balloon animals for you."
SACRAMENTO, CA. - Not to be outdone by the "Gacy Room", Scream Park California decided to model on of its haunted houses on the city's own home grown serial killer.
According to a local CBS station, Scream Park planned the attraction's them around Richard Trenton Chase. Known as the "Vampire of Sacramento" chase killed six victims in the span of a month. His grisly crime spree made news after police discovered that drank the blood of some of his victims.
The families of some of Chase's victims still live in the Sacramento area. One of them is David Wallin, whose wife and unborn child were killed by Chase.
"It was horrifying and the worst part of it is, I was the one that got home after a terrible day at work and found her, which was what I live with every day," he said.

"It's horrifying that everybody else somehow is making some kind of situation, money, whatever you want to call it, off of other people's grief," he said.
Scream Park California changed the theme of the haunted house after they were contacted by the media.
So far there have been no reports of Ebola-themed haunted houses, but October isn't over yet.